Vegan options at AnnaMaya in Delhi
What happens when you have too much 'Indian' food
Suraj and I had been on a pilgrimage that involved a lot of driving, and some trekking. The trip was amazing, for a number of reasons, but by the end of it, I couldn't face another 'Indian' meal! Why? Every single day, between May 24th and June 10th, we had some form of 'Indian' food for breakfast, lunch and dinner.
Most of the food was provided by the tour company's catering team, who accompanied us throughout the trip. The team were absolutely amazing! They weren't familiar with vegan food at all, yet they ended up making items, which most would (incorrectly) consider impossible to veganise. They provided a variety of dishes, and ensured that there were plenty of vegan options. In fact, on many occasions, the entire meal was vegan.
All that aside, it was our last night in India and many of us wanted a change of cuisine.
Vegan food in New Delhi...
A friend of mine had asked for recommendations for vegan options in Delhi. Through a group on Facebook group, we heard about AnnaMaya in a hotel called Andaz. After checking out the sample menu, I was ready to go there and nowhere else! The food sounded amazing, involving various concoctions that quickly excited the taste-buds!
What I loved about eating at AnnaMaya in Andaz, Aerocity, New Dehli, India
The biggest factor, which made us decide to take the time to find out what they could serve, was the staff. We were greeted by Ranbir who quickly understood our requirements. He suggested that we sit down while he consulted the Sous-Chef. Within a couple of minutes, the Sous-Chef and Ranbir had made a list of bespoke items, they identified items on the menu, which were 'vegan by accident', and pointed out those that could be veganised.
The restaurant was spacious and uncluttered. It was a lovely place suitable for enjoying a meal with friends, having an intimate meal with one other, or simply hanging out casually over a few drinks.
The staff were attentive without being too 'in your face' and they were relaxed, yet so diligent.
In terms of portions; we were hungry, therefore in danger of ordering too much, we were all craving a different cuisine, and we had no idea about portions. Ranbir was amazing! We told him what we wanted to order and he suggested how many portions we should order. He was spot on! All the food was eaten, we were content and we didn't feel the need to order anything else. He knew his stuff and he understood us, and our needs, very well.
As for the food...I liked everything that they served, including the drinks! Below you'll see some of what we had. In addition to this, I enjoyed a delicious salad, and a drink made with ginger, kaffir lime and cold brew coffee.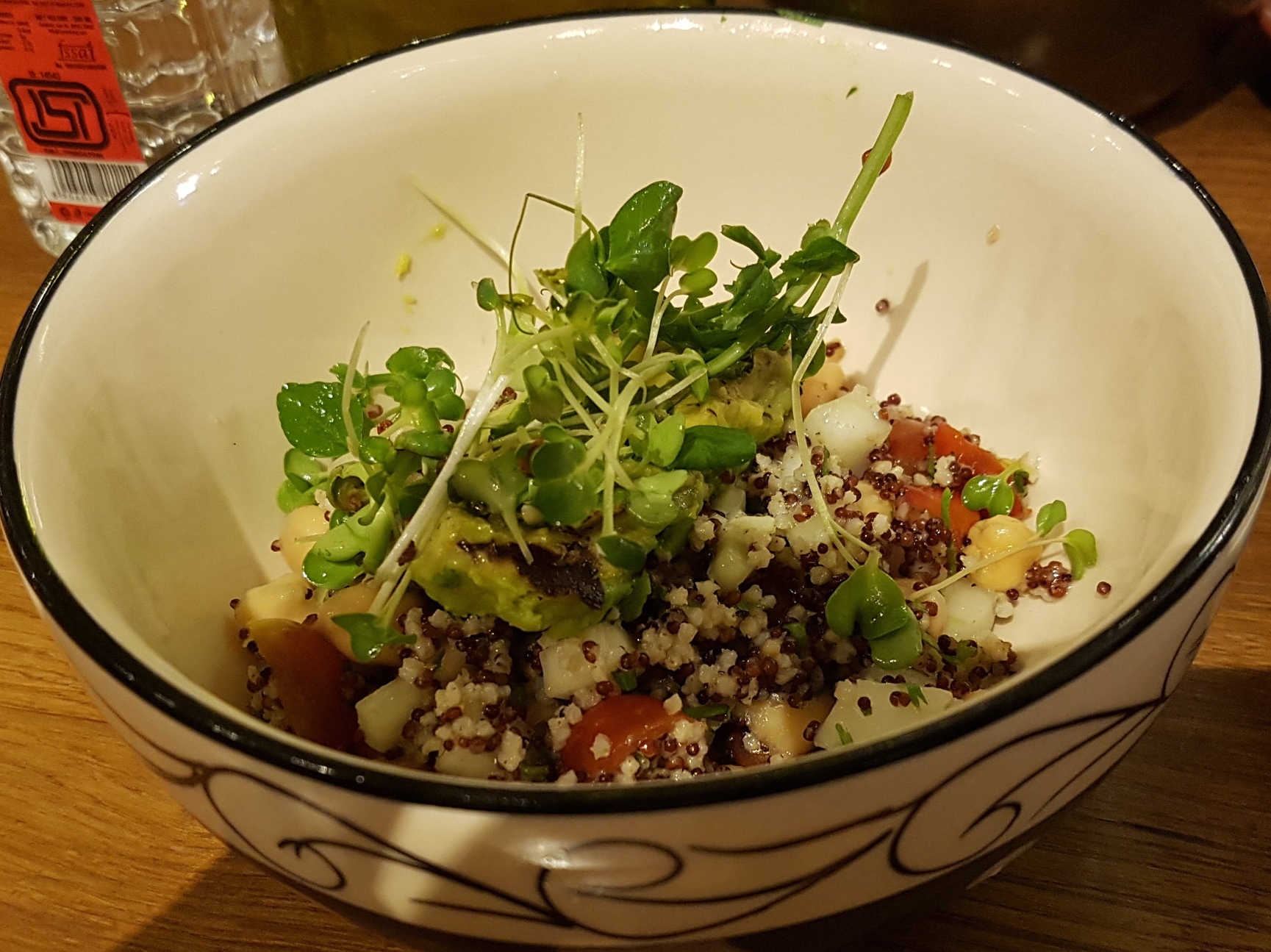 I also loved the fact that they had open kitchens. One for non-veg food, and the other for vegetarian dishes.
So what do you think? Are you tempted to enjoy a meal at AnnaMaya when you're next in New Delhi?
Related content