Our meal at Rehab in Hackney
Meeting up with old friends
Someone I've known since I was 11 lives in Hackney and we were due for a catchup! If you've heard anything about Hackney recently, it's probably to do with the increasing number of vegan businesses that are opening there!
Hackney is bursting with vegan options in markets, cafes, restaurants and bars. So, we figured that this was a great way for us to catch up. I'll travel to her end, we'll enjoy a delicious meal together and I can share the experience with you!
The bonus was that Rehab hadn't been open very long, so we were going to meet, indulge and I'd get to support a new business early on, which means a lot to me.
Here's how it went...
We got two dishes, which of course, we shared! We were quite full so we restrained ourselves and ordered one dessert to share.
THE NO KILL GRILL: Our vegan cheese grilled sandwich with cashew cheese, spiced beans and kimchi.
THE RAINBOW BOWL: An array of spiced heated tofu, fermented food, raw foods, condiments and seasonal greens, comes with bread. All organic.
PANCAKE STACK: A three layer stack of organic banana pancakes with organic date caramel and vegan ice cream.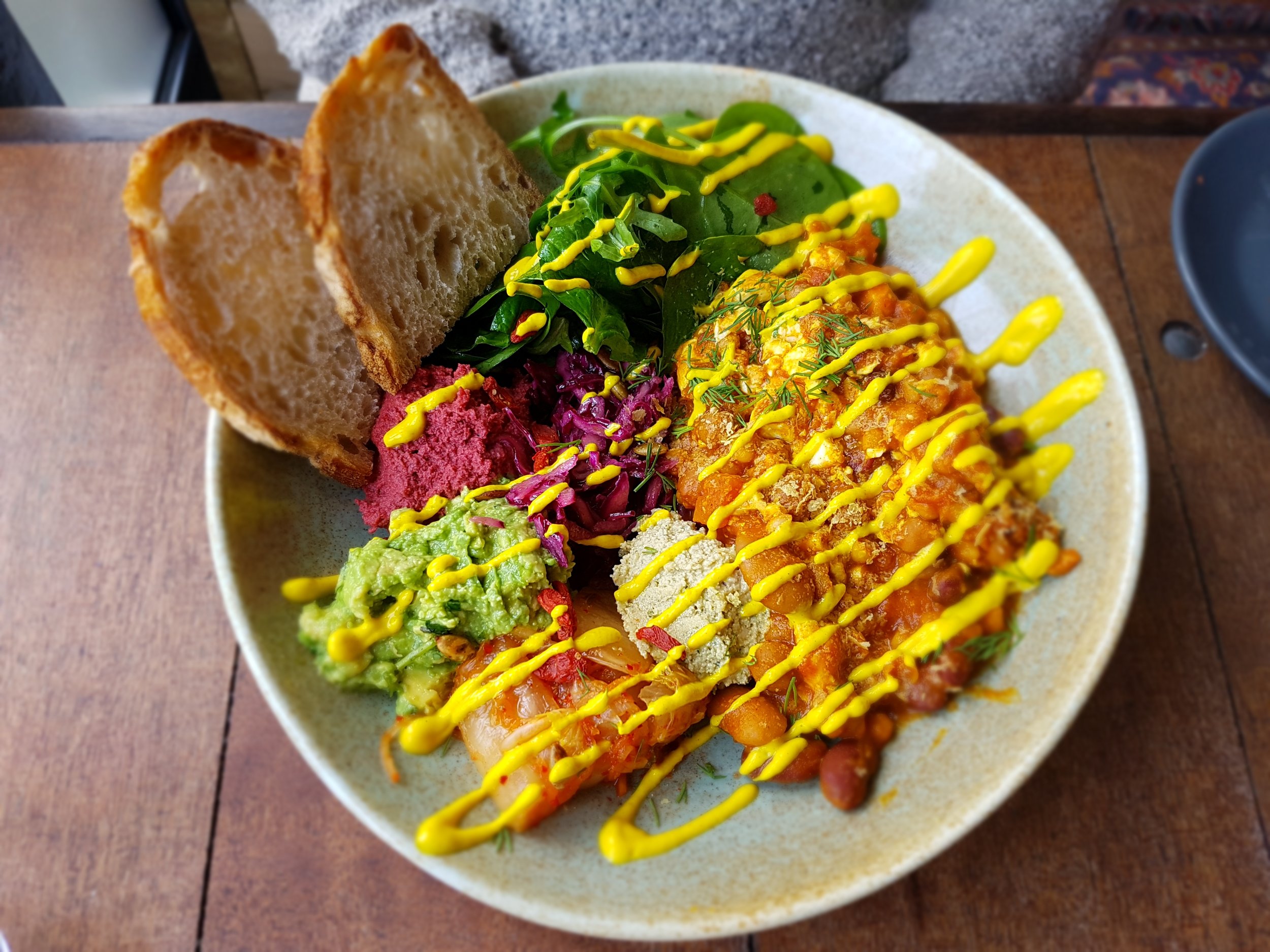 What I liked about Rehab
I liked the atmosphere in Rehab, it was chilled out, friendly and casual. The cafe was spacious and the menu was quite funky. I liked that fact that they didn't have the 'regular' dishes that are available in mainstream restaurants.
In other news...Rahab is now a cafe by day and a vegan bar by night! Find out more here.
I'd love to hear from you when you pop into Rehab.
So is it hard to eat out when you're vegan?
The short answer is 'no'.
The longer answer is, 'check out the reviews here and 'find out how easy it is to buy vegan desserts when you're out and about!'