Delicious vegan eats, in and around, San Francisco
In October 2012, Suraj and I went to San Francisco. We were amazed to find that there was an abundance of vegan food! Not the 'regular' kind which most places manage to source/make BUT a few things that we've not eaten since we began following a vegan diet. It was so exciting!
We had our first doughnut (donut) after following a plant-based diet almost 5 years. They were ALL vegan so we got one of each and shared them between 8 of us!
You'll find Pepples near the Ferry Plaza Farmer's Market. I can't stress how much I think it's worth making a trip there.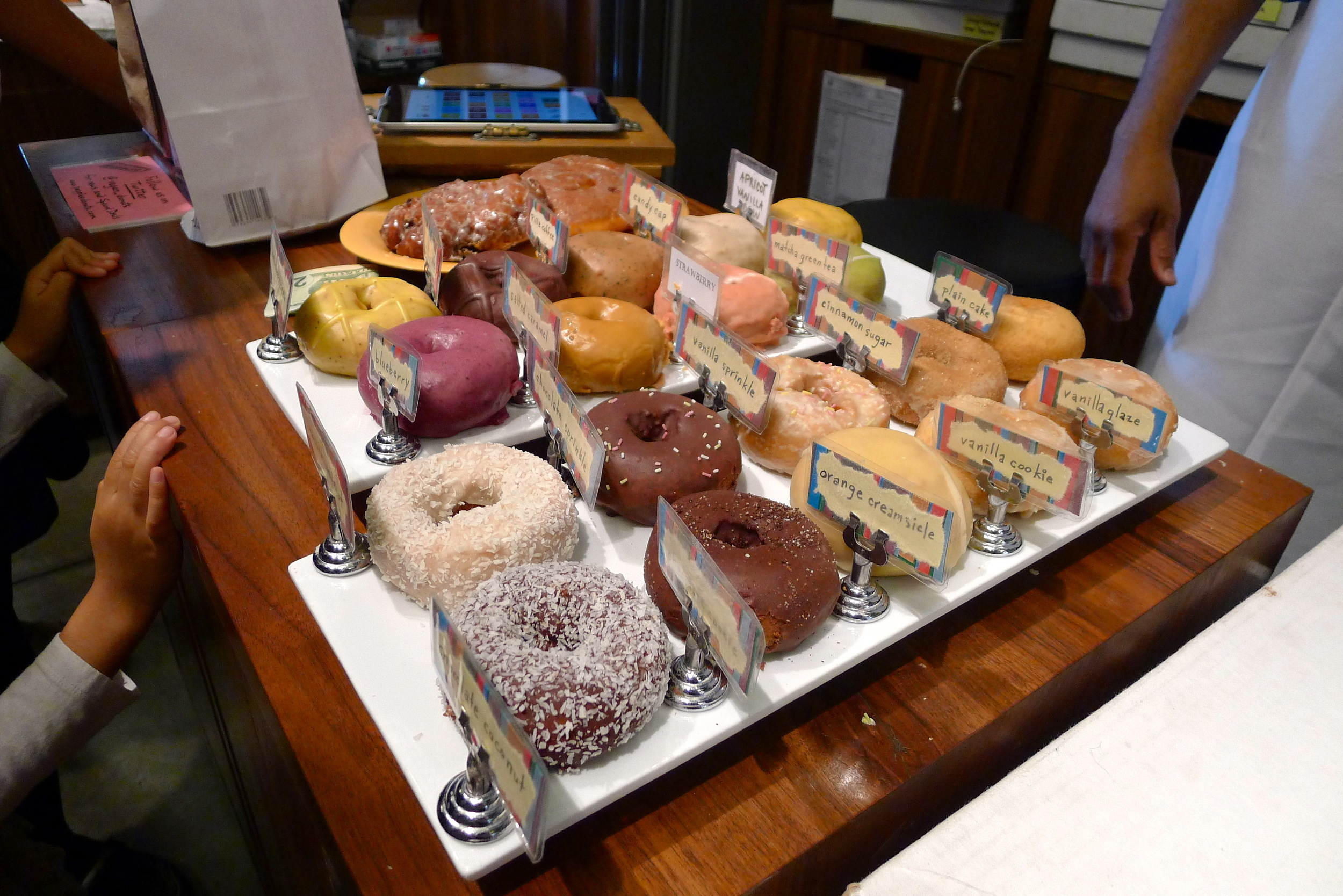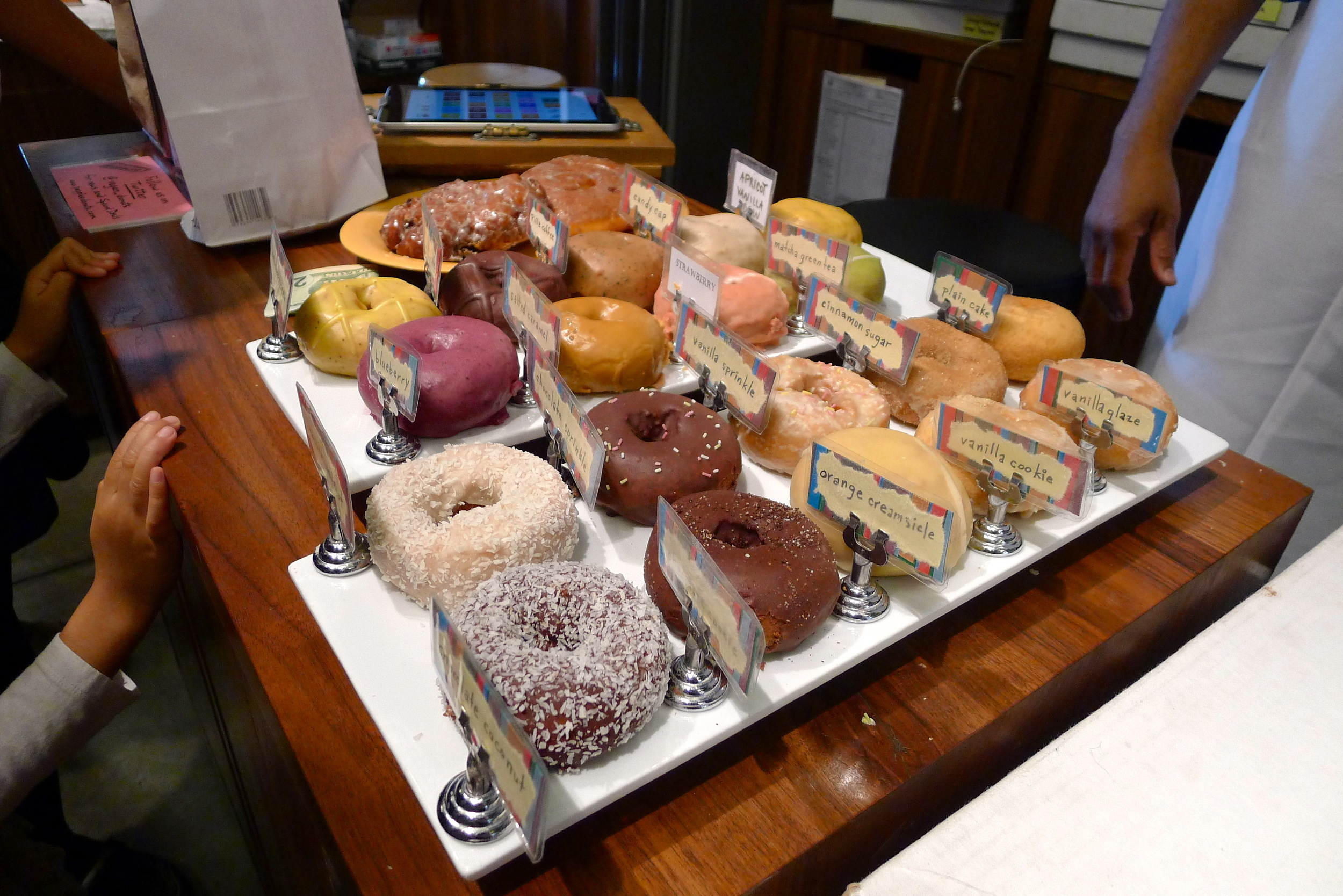 Below, you'll see some of the places where we indulged!
If you visit San Francisco and you go to any of these places, I'd love to hear what you think of them. Also, if you discover any other amazing restaurants or Cafés do share your experience of it. :)
Dining at Gather was an experience I won't forget! The number of windows meant that it was lovely and bright inside. The staff were great! They were happy to describe and recommend dishes if asked, and equally willing to simply take orders. When they brought the food to the table, they shared some information about each dish so that we knew enough about it to feel comfortable, but the sense of excitement remained! The presentation of everything we ordered enticing and it tasted delicious!
Loving Hut
Eating at Loving Hut was a completely different experience for us. This was because we went into the restaurant at a quiet time, so we had the place to ourselves, and that was just as well!
Our group was made up of four adults and five kids. We couldn't sit together, so we split up and creating a way for us to taste and pass the desserts we'd ordered. It was great! We all had a bite of each of the six desserts that we'd ordered, decided which ones we liked more and then had more of the ones we preferred. It was great!
Herbivore is fully vegan, but it's popular with vegans, vegetarians and omnivores. They take pride in buying as many of the ingredients as possible, from local sources.
Maybe it's enough to share this review which I found on Trip Adviser "If this place can make a carnivore enjoy vegan food, and want to go back, then they are doing something right!"
I remember Greens for the view and the atmosphere. It was beautiful. As I think back, the sense of calm and beauty seemed to influence the way I experienced the meal. The ambiance, food and variety of options made it a lovely evening.
Oh my! What can I tell you about Cinnaholic? I remember feeling a little disappointed that we weren't in a bigger group so that we could order and taste more from their amazing menu! They had Cinnamon Rolls with toppings and sauces that I would have never thought of putting together, but when I saw them and read the description, I just knew that it would be delicious! I liked all the ones we tried!
The tag line for Millennium is "Award-Winning Innovative Vegan Cuisine" and I can't disagree with it!
Millennium offers fine dining, in an informal and relaxed setting. I remember the lady who served us. She took her job seriously, she did everything she was supposed to do, but she was warm and just so easy to speak to. It's an experience that's worth every penny. We liked it so much, that we tried to fit in another meal, but they were fully booked so we enjoyed drinks and desserts at the bar instead.
Millennium has moved since we visited San Francisco. It's now located at 5912 College Avenue
Oakland, CA 94618
Way Out Cafe is now closed
"My best advice is never give up working toward veganism. Every single time you make the choice to eat vegan, you're making a difference. Whenever you're tempted by meat or dairy, remind yourself why you don't want to eat those things. Explore foods you've never tried before – there is a whole world of foods out there that are healthy, delicious, and can be eaten without guilt. Focus on progress, not perfection, and you'll find yourself eating vegan more often than not."
- Cam1218