T.O.F.U. Magazine changing the world for more than just the animals
I shifted from a vegetarian diet, to a vegan lifestyle, because I was unable to live a life of duality. I couldn't know about the pain, suffering, and entrapment that animals endure, for us to have particular foods or materials, and continue to be part of it. Although I do reflect on things, I wouldn't have started this journey if it wasn't for PeTA India, and the learning hasn't stopped there.
To me, T.O.F.U. Magazine is key in helping us connect the dots. It is a way of making us aware of topics that involve veganism and other forms of oppression. After all, if that's the kind of thing that bothers us, and if that's what we want to avoid being part of; T.O.F.U Magazine is a great way to make sure that we stay in the know. We may not be ready to make necessary changes straight away, but at least we'll be aware.
More about T.O.F.U. Magazine...
Tell me a bit about yourself before you launched T.O.F.U.?
I launched T.O.F.U. in 2007 with a past partner, so life before the magazine seems distant. That being said, there were plenty of things going on at that point that ultimately led to the launch, and have helped me continue to publish the magazine ever since.
Before T.O.F.U. came along, most of my focus was on the music industry, more specifically the all-ages and independent music scene in Halifax, Nova Scotia, Canada. In 2003, I was lucky to be managing an Internet cafe called The Ceilidh (pronounced kay-lee) Connection, which saw the writing on the wall (or, more appropriately, the wifi in the air), and started to branch out into doing other things to try and create more business. Through a bit of luck and great timing, it became the de facto all-ages venue for the city, and I was quickly bit by the music bug. Of course, like most things related to independent music (especially the all-ages scene), it didn't last long and closed in November of that same year. However, the people I met and the things we accomplished continue to play a role in my life even to this day.
What inspired you to create a business that caters to a (mainly) vegan audience?
The magazine tends to assume its readers are vegan, or considering the change, but the articles themselves are not all solely focused on veganism.
My venture into vegan media was actually a side product of fundraising efforts for an outdoor all-ages festival that we had started in Halifax to protest the liquor board's ruling that having shows at the cafe was conducive to a "party atmosphere" that was inappropriate for minors. Despite the fact that our regional liquor rep thought we were within the guidelines of our license, once the board made their decision, our shows were effectively cancelled. So, we did what seemed only natural at the time: we protested by having a day-long concert outside of city hall and invited a pile of bands to play.
It was known as the Tumbleweed Festival, and it turned out to be a big hit, so we did two more that summer. This was despite the fact that we had reached a compromise with the liquor board to allow us to host shows before the first festival act even stepped onstage. The cafe closed later that year, but the festival continued on for two more summers and continued to promote the all-ages scene in the area.
It was during preparation for the last festival that we were faced with some significant increases in our production cost, mainly due to the city requiring off-duty police officers be used for security, so I had to come up with fundraising ideas. Along with a series of midnight movie screenings, and a few other ideas, I was inspired to do a vegan cookbook thanks to my vegan partner and a couple of youths who worked with me on the festival that were also vegan. The first cookbook, Veganize Me, was a success (although not enough to cover the festival's cost) and my partner and I eventually published another one, Tis the Season to be Vegan, just before the end of the year.
Soon after, my partner created a vegan guide to Halifax, and when we started planning our next creation, a vegan magazine seemed like the next best thing!
Is T.O.F.U. owned by, or in partnership with, another company that tests on animals or sells non-vegan products?
T.O.F.U. is an incredibly small business. In fact, it's basically just me. To be fair, each issue involves the work of a number of authors, designers, and other folks, but the day-to-day stuff is handled by myself. I've been vegan for nine years or so, and I don't test on animals. :)
What is the focus of T.O.F.U.?
T.O.F.U. is a vegan magazine that focuses on intersectionality and the needs of the vegan and animal rights community. The aim is to address key issues within itself, as well as outside, the community, hoping to spark conversations that will change the world for more than just the animals.
For someone who hasn't read T.O.F.U. before, what kind of feedback have you had from your readers? What do they love the most?
For the most part, feedback from my readers has been positive, especially since I shifted the focus of the magazine to cover more topics around the intersection of veganism and other forms of oppression. People have been happy to read pieces discussing the need to eliminate fat shaming from the vegan community, the disservice organisations do when they rely on sexist campaigns to promote going vegan, and numerous other things that are typically not covered in vegan-targeted media.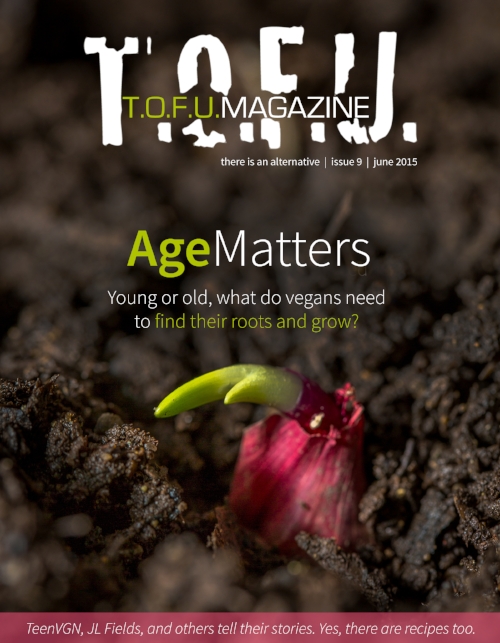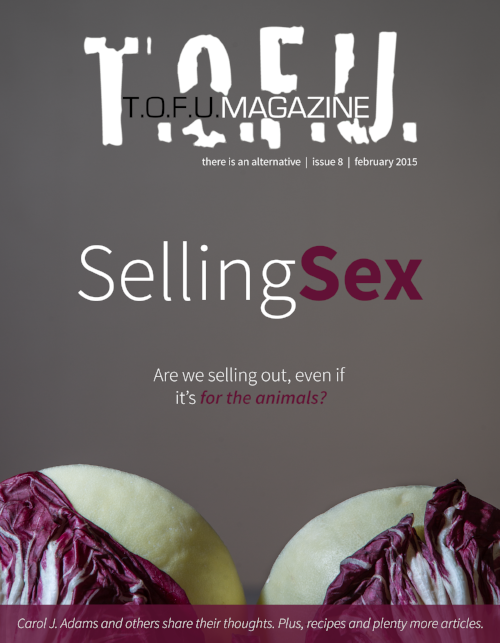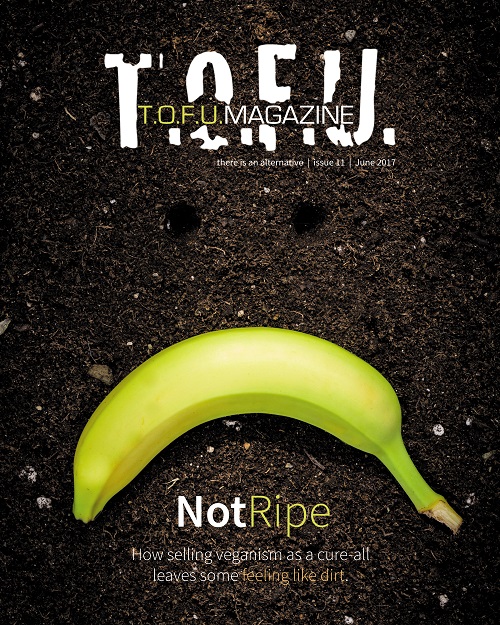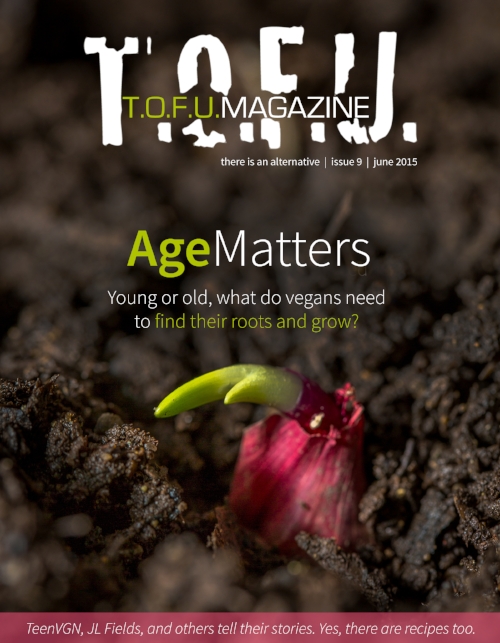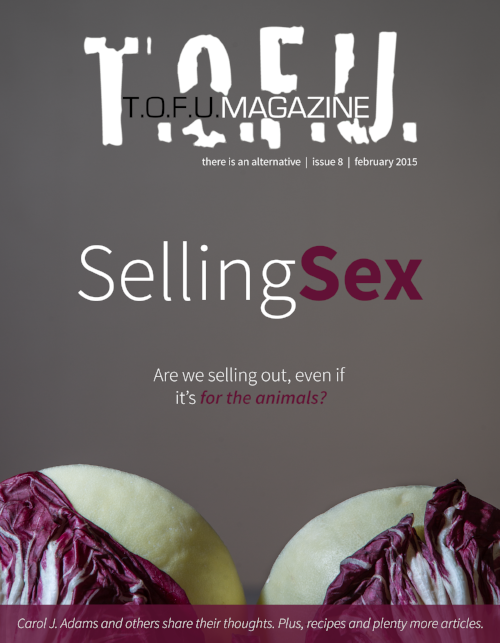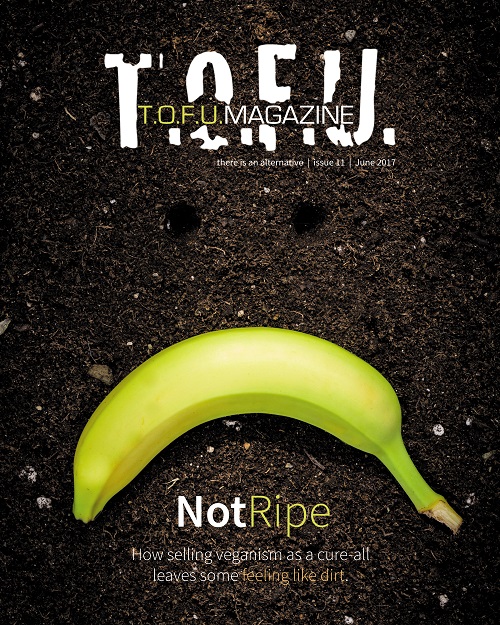 Where can people find T.O.F.U.?
For a number of years now, T.O.F.U. had only been available as a pay-what-you-can (including nothing) digital download through my online store. Luckily, that's meant it was available to anyone with a reliable internet connection, so its audience has developed around the world.
However, after a successfully funded Kickstarter campaign for a printed anthology called "The Book of T.O.F.U." in late 2016, I decided to offer subscriptions through Patreon to try and go back to print permanently.
Of course, I'm still offering the digital version through the pay-what-you-can system so folks can access it without much of a financial limitation, but I'm also looking to be able to create a tangible version for people to hold and enjoy reading as well.
How easy is it for you to source articles for the magazine?
Finding writers is always an interesting part of working on a new issue. Sometimes, it's fallen together easily and I simply have to respond to people and help them shape their ideas. Other times, such as with T.O.F.U. #11, I have to make multiple posts online and approach people personally to try and create the team I want. To be honest, social media is both a great asset and a curse for such things since it has the potential to spread the word to people I don't even know, but it also (often) leads to posts being buried beneath the latest vegan product launch, some sort of drama, or a cute animal GIF.
In some ways, I'd love to have a consistent group of contributors for the magazine, so I don't have to seek out people for each issue and then take them through the process, but I also want to ensure the magazine continues to change and improve its representation of the vegan community. So, I'm trying to find that balance, and, even though I'm not there yet, I think it will become easier over the next few issues.
What is your vision for the future of T.O.F.U.?
I quit my full-time job nearly three years ago to focus on the magazine, and there were a number of goals that I had in mind when I did so. One of the biggest ones was to bring the magazine back to print, and I took that first step through the crowd funded anthology in January 2017. Now, I'm trying to determine just how I can print new content on a reliable schedule while limiting the environmental footprint of each issue whilst ensuring it's accessible to as many people as possible, both geographically and financially.